How to install WordPress on CentOS Web Panel (CWP)
What is Centos Web Panel (CWP)?
CWP is a free control panel, with full basic functions as a paid control panel, helping you to manage VPS/Dedicated server without SSH, but just manipulate directly through the interface. Using CWP you can easily manage everything on the server without having to type every complicated command line.
The free version on CWP, basically supports all the necessary features to operate the website, in addition, CWP also has paid licenses with some more advanced features to serve many different needs. . You can refer to more detailed service packages with license from the homepage at the link below.
Reference link: http://centos-webpanel.com/support-services
Install WordPress on CWP
Note: Before installing WordPress, you need to make sure that the domain has been successfully pointed to the server IP and that you have installed CWP on the Centos server
If you do not know how to install please refer to the following instructions:
First, you access the Centos Web Panel administration, to access the user containing the website to be installed, you can access it in the following two ways:
If you want to access the user through the root account, then follow the link: http://IPaddress:2031/ and log in with root information, you access User Accounts => List Accounts => Select the User to install .
If you want to access directly from the user account, then follow the link: http://IPaddress:2083/ and log in with the user account.


After successfully logging in, in the user interface, go to the Addons => Scripts section .
Next, you click on Install WordPress.
Please fill in the required information as follows:
Choose Domain : Select the domain to install WordPress.
In Directory : the path containing the source code (you should leave this blank).
Database : Database name (you can enter any name or leave it as default).
User Name : User Database (you can enter any name or leave it as default).
Password : Password of the database.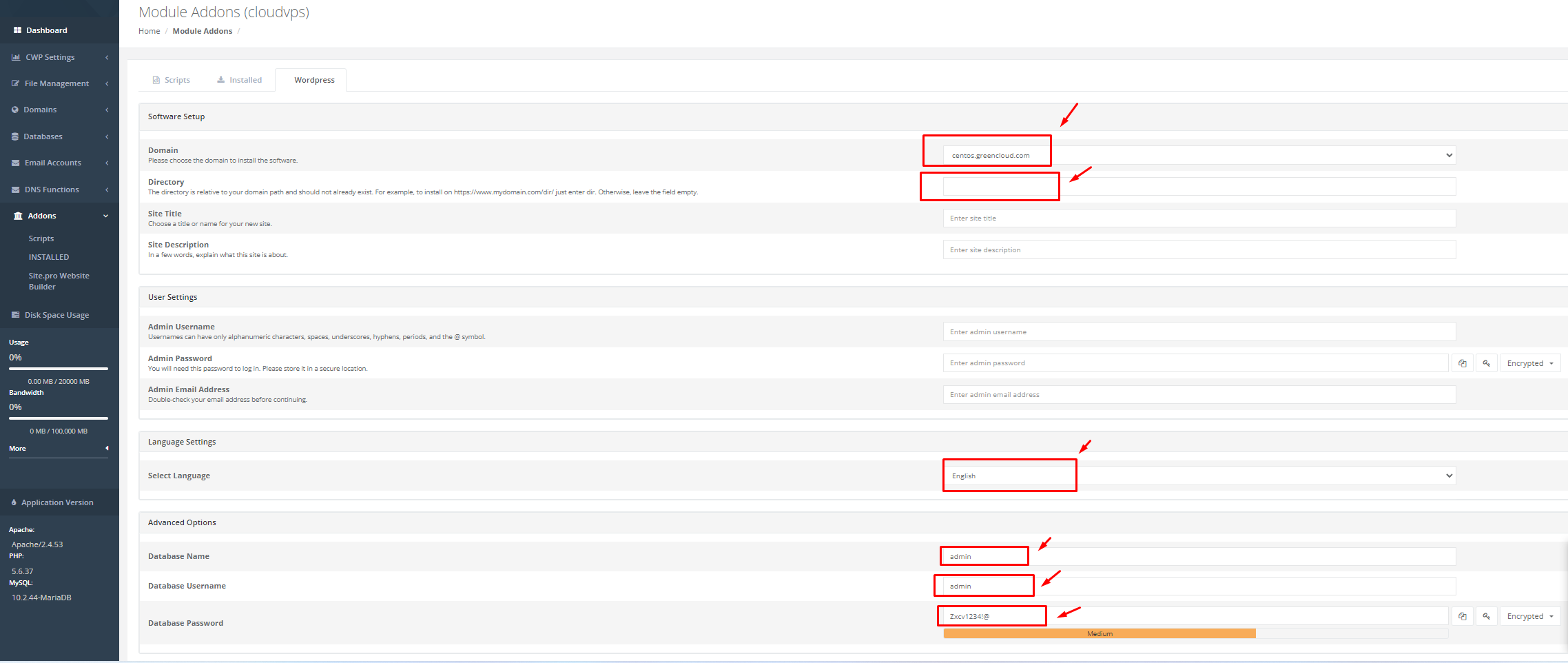 Also, please fill out the following information:
Site Title: Website title.
Site Description: Description.
Username: User logs in to the website administration page.
Password: Password to login to the website admin page.
Your Email: Website admin email.
After filling in all the information, click Install WordPress.
Select Continue in the next warnings.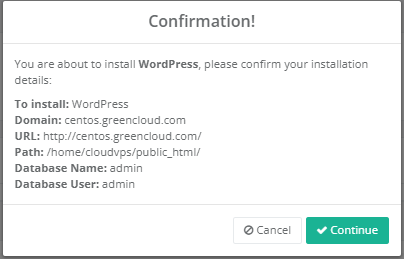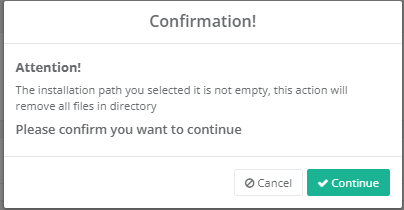 Now you wait for the system to install again, the installation process will take about a few minutes.

After the installation is complete, you can visit your website to check, as shown below, the installation is successful.
To access the website admin page, follow the link: http://your-domain.com/wp-login.php or http://centos.greencloud.com/wp-admin/ and login with the previously created user/pass.
Summary 
Through this article, we have guided you through how to install WordPress on Centos Web Panel. Hope you can install it successfully