How to use webcam over remote desktop
Introduction
In many cases, remote work is done using the Remote Desktop Protocol (RDP). And it can be challenging to manage the hardware resources between the host and remote user, especially accessing webcams in remote desktop.
When working remotely, the connection between home and work machines is often established using RDP. If the webcam is not working in remote desktop, users cannot participate in meetings or Zoom sessions.
This article will provide you with the necessary information to resolve the issue of a webcam that does not work in a remote desktop session.
Continue reading to learn how to get a webcam to work on your remote desktop.
Webcam Not Working on RDP – Easy Fix
Configuring the Remote Desktop Connection manager
The first thing to check is to verify that the Remote Desktop Connection Manager is correctly configured. If it isn't, you won't be able to get the webcam to work on remote desktop sessions.
Select Remote Desktop Connection.

Click on "Show Options" → "Local Resources". Then click the "More…" button.

Expand the

Video capture devices

by selecting the + to the left and select the webcam that you want to use and tick:

Other support plug and play (PnP) devices

Finally, click OK.

If the webcam is not showing up in remote desktop after the configuration has been verified, you may need to modify the Group Policy setting on your Windows machine.
Please enter the command: gpedit.msc to edit Group Policy
1. On the PC you are connecting to, update the setting in Edit Group Policy as follows:
Computer Configuration > Administrative Templates > Windows Components > Remote Desktop Services > Remote Desktop Session Host > Device and Resource Redirection > Do not allow supported Plug and Play device redirection: Disabled
Right-click on Allow audio recording redirection and Allow audio and video playback redirection   → Click on Edit choose Enable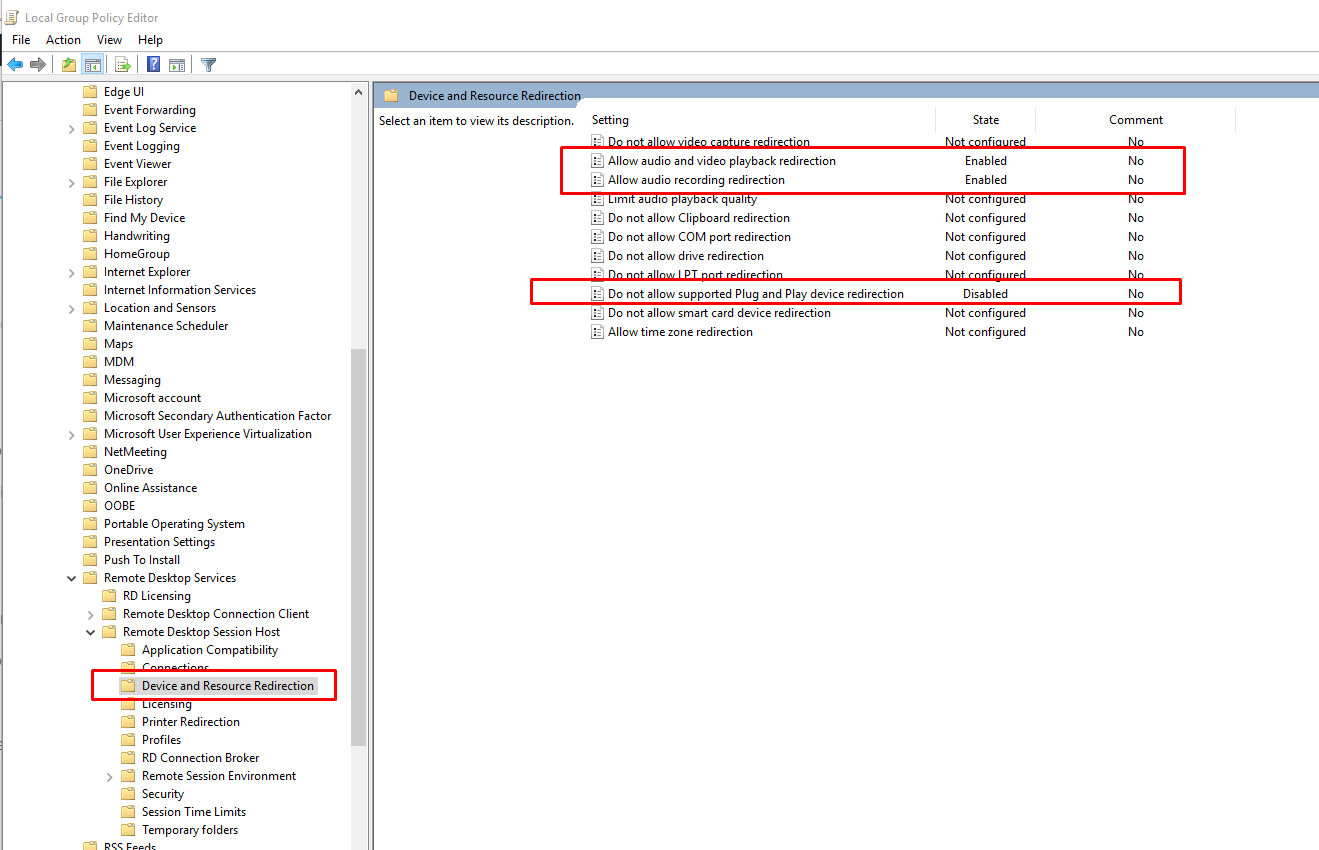 2. Reboot the remote computer.
You also need to enable the following policy when connecting remotely to a physical workstation.
Computer Configuration > Administrative Templates > Windows Components > Remote Desktop Services > Remote Desktop Session Host > Remote Session Environment > RemoteFX for Windows Server 2008 R2 > Configure RemoteFX: Enabled
If you still can't use the webcam when connecting over RDP after making the preceding changes, you may need to look at the camera privacy settings.
Use the following steps to ensure the settings are correct on a remote Windows 10 computer.
Search for and open "Camera privacy settings".

Allow access to the camera on your device and flip the "Allow apps to access your camera" switch.

You need to enable Windows camera frame…. on both machines in the services.msc. They must be in the "Running" state.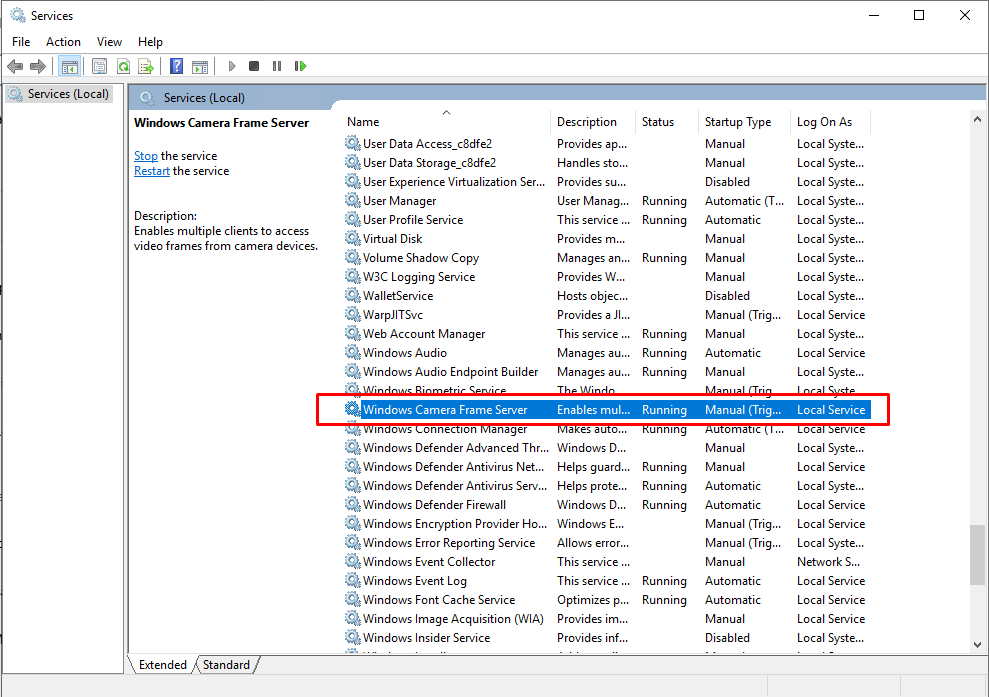 Note: You may also have to enable these settings on the local computer to resolve the problem of the webcam not passing through RDP.
Summary
Through this article, we have detailed instructions on how to open the Camera on RDP for you. If you find this helpful article, please share it