How to install DirectAdmin to your KVM VPS
Introduction
DirectAdmin is a web hosting control panel software, similar to cPanel, which allows you to administer your website and hosting options using a graphical, web-based interface. You can manage an unlimited number of websites, email accounts, etc.
Prerequisites
an active KVM VPS
DirectAdmin license
How to install DirectAdmin to your KVM VPS
1. Firstly, you will need an active DirectAdmin license.
Please check here if you are eligible for a free DirectAdmin license: 
https://greencloudvps.com/announcements/3/GreenCloudVPS-Offers-Free-DirectAdmin-With-VPS-and-Dedicated-Servers.html
Or you can purchase our Internal license for $5/mo: DirectAdmin License
2. Please check the OS requirements here: https://www.directadmin.com/install.php
3. Run pre-install commands listed here: https://help.directadmin.com/item.php?id=354
Example: CentOS 7
4. Download the installation script, and run it:
bash <(curl -Ss https://www.directadmin.com/setup.sh || wget -O - https://www.directadmin.com/setup.sh) auto
If you have issues installing DirectAdmin on our VPS, you can change the DNS to Google DNS. Open /etc/resolv.conf file and paste following lines in it:
nameserver 8.8.8.8
nameserver 8.8.4.4
Remove/comment out any existing lines.

5. Accessing the Control Panel DirectAdmin can be accessed at http://server.ip.address:2222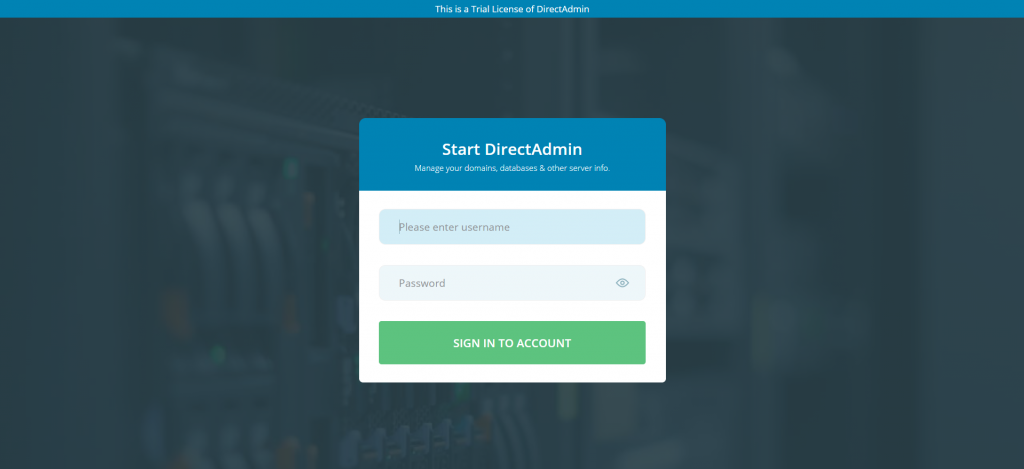 –Using the Admin username/password specified in the setup.txt file in your scripts directory located at /usr/local/directadmin/scripts/setup.txt
less /usr/local/directadmin/scripts/setup.txt
Or you can change the password directly via SSH with the command:
passwd admin

That's it! Enjoy GreenCloudVPS and DirectAdmin!